This page of our site is dedicated to helping you understand if you have been mis-sold your pension and what can we can do to help you if you have. If you want to know if you can get your money back then call us today or complete our form.
Here at Expert Pension Claims, we have specialist experience in handling financial claims and understand how much your claim for compensation means to you. Our expert team members will treat all mis-sold pension claims with understanding and respect, so you feel comfortable you are making the right choice.
Mis-Sold Pension Compensation – How Much?
The amount of compensation you could receive will vary from case to case, but there are current claims being made which have ranged into thousands of pounds.
When you call us, one of our team members will quickly assess your situation, and then if we feel that you have a legitimate claim, will assign you a specialist mis-sold pensions advisor who will handle your case.
You won't know how much you could be owed until you call us, so get in touch today so you can get justice for your mis-sold pension.
Pension Mis-Selling – Are You a Victim?
There are many reasons and ways in which you may have been mis-sold a pension, as they are one of the financial products that have been most commonly and widely mis-sold by banks and other financial institutions.
UK regulators have noted a dramatic rise in the number of complaints relating to pensions, with millions in refunds paid out and banks paying large fines as a result.
But how do you know if you are one of the thousands of UK victims of mis-sold pensions?
Pension advisers have very strict codes of practice to follow. However, the basic principle is that you may have been a victim where you were sold your pension unfairly, or not made aware of better options. You may have been mis-sold where:
Health & Medical Issues – The adviser failed to take into account your health and medical issues or failed to ask.

Not Given Enough Information – You were not given all of the information required to make an informed decision.

Given the Wrong Option – You were advised to take out a personal pension, but a company scheme would have given you a better deal.

Didn't Shop Around for Deals – You were not given the opportunity to shop around for the best deal.
If any of the above statements apply to you, it is likely you could apply for mis-sold pension compensation with the help of our team.
Contact us today to find out how you could reclaim thousands owed to you as a result of pension miss-selling, a negligent mis-sold pension transfer, annuity, or plan.
How Can I Claim for Mis-Sold Pension Compensation?
You might be wondering how the whole claims process works, and how long it might take until you receive your refund.
Each case is different however we will try to outline the process as clearly as possible. We offer pension mis-selling advice to anyone in the UK, covering England, Scotland, Wales, and Northern Ireland.
After you have completed your initial inquiry using our online contact form or over the telephone, we will send you a small claim pack to complete and return to us. After we receive your documents, you have 14 days to cancel your claim if you decide to do so.
After we have contacted your pension provider or adviser, they have 40 days to provide us with your file. We will then review your file and contact you if we require any clarification.
If we then submit a mis-sold pension plan claim on your behalf, your adviser or provider has eight weeks to respond to this complaint and will sometimes ask for an extension of 2-4 weeks.
After this time, your complaint may be upheld, and you will be paid your compensation. If however your complaint is not upheld, we will present your case to the Financial Ombudsman – we will require further authorization from you before we do this.
Why Choose Expert Pension Claims?
We take pride ourselves in making every customer we help a contender against the large UK pension providers and advisers. As a result, we only employ exceptional team members, committed to helping our clients.
We want to ensure that we provide an excellent level of customer service while providing the results you deserve. When you make your claim with us, we want you to feel comfortable that you have come to the right place.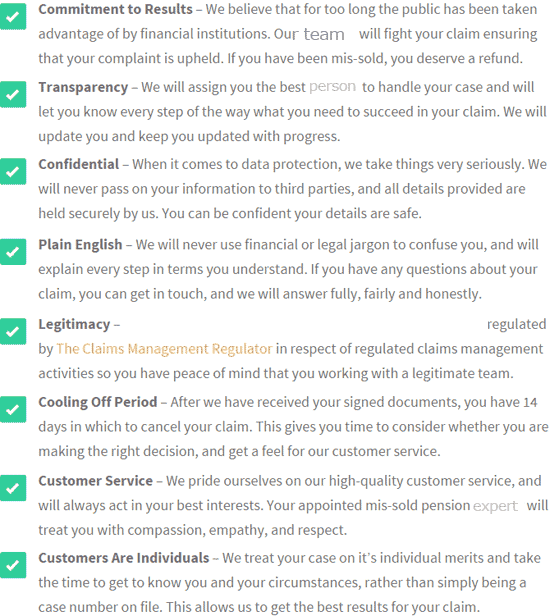 Mis-Sold Pension Claims – Start Now
We have years of experience in helping consumers reclaim money that they are owed for mis-sold financial products.
By simply completing our claim form, one of our specialists will help you begin the process of reclaiming the money that's rightfully owed to you.