Ethical Forestry was an offshore investment scheme relating to plots of trees in Costa Rica. This investment scheme is now being managed by a liquidator, so if you invested in this scheme you may well have lost a substantial amount of money. As the scheme was not UK-based, it will not be covered by the Financial Ombudsman compensation scheme. However, our team may still be able to help you make a claim for any lost money.
Our team are specialists in helping UK citizens recover money after making bad or fraudulent investments. To get started on a no-obligation basis please call or email us today. Here is everything you need to know about resolving forestry investments here in the UK, including forestry investment risks as well as a rundown of the companies involved.
The Background to the Claim
Ethical Forestry was promoted as a SIPP-suitable investment by Bournemouth company Ethical Forestry Ltd (voluntarily liquidated in 2015). Unfortunately, the scheme was underpinned by thousands of UK investors and savers, all of whom will probably have lost a substantial amount of money set aside for their pension and retirement planning.
Thankfully the Expert Pension Claims' team can help and support people who signed up to this SIPP scheme, and one simple phone call or email into our team could get things started for you. Please don't delay – time is of the essence when it comes to claiming for Ethical Forestry investment compensation.
What was Ethical Forestry Ltd?
The company was mainly known as Ethical Forestry Ltd, but they also traded under other names, including:
Ethical Forestry Holdings

EF Forestry Management Ltd

EF Sales & Marketing Ltd

Ethical Forestry S.A
These names all traded, sold, and managed a group of Melina tree plantations in Costa Rica.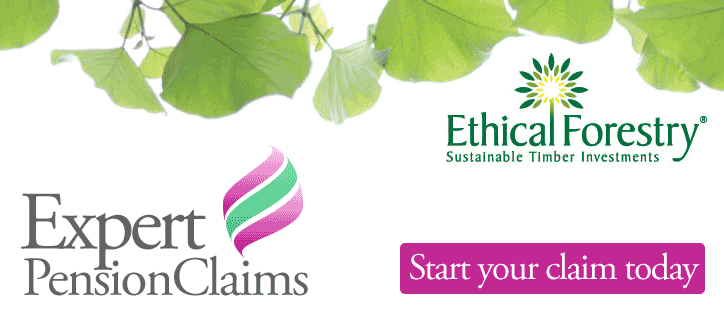 How Ethical Forestry was a Mis-Sold SIPP Investment
The team at Ethical Forestry promised investors, savers, and those with pension and retirement savings, that the scheme would return a high-yield profit over time. Details of the scheme (which was advertising as "Sustainable Timber Management") required SIPP investors to purchase 600 tree plots for £18,000).
They were then led to believe that this investment could return over £100,000 after a 12-year period at which point the trees would have been harvested and sold-on. Evidently, this would be a fantastic sounding opportunity to many people wishing to enhance their retirement or investment portfolio.
But now, given the liquidation proceedings, many of those investors are looking to claim compensation for the mis-selling of this particular SIPP scheme.
Why Did Investors Put Money into the Scheme?
The reasons that so many people were ready to invest their SIPP into this scheme was simply because it sounded so appealing at the time. After all, who wouldn't want to do their bit for the environment whilst making large financial returns on their investment? It is sentences like this one that would have lured the unwitting investors. On the other side of the coin, the scheme was ideal for independent financial advisors (IFAs) because it was such an easy sell.
However, now that promise has come back to haunt many IFAs.
How was Ethical Forestry Mis-Sold into SIPPs?
Because the trees that were part of the investment were Melina trees, it looked pretty secure. Melina trees can grow to impressive heights over a 12-year period, and don't suffer the same as other trees in Costa Rica from humidity and moisture changes – this meant that Melina trees would stand the test of time before being harvested (at which point the money would be made real).
But, things of course are never that simple in reality. The Melina trees that made up the Ethical Forestry investments were, of course, prone to other risks, such as naturally occurring weather issues, disease, pests, political shifts in Costa Rica, management and ownership issues. The list goes on.
Now, when the investment was sold into pensions and SIPP investors, these risks were never truly explained, and barely understood by the majority of independent financial advisors.
It wasn't just about the risks involved, some people were plainly not suited to this type of investment. In many cases, we have heard about people in the UK who were sold Ethical Forestry investments who should never have been exposed to this type of financial risk. If you are one of those people then you should make a claim.
As a result, it's a classic case of mis-selling. And in cases where investments have been mis-sold such as Ethical Forestry, compensation can be sought and claims can be brought.
How the Mis-Selling Story Emerged
The problems with the Ethical Forestry investment first emerged in a story in the local Bournemouth Echo newspaper. To quote the article:
"Twenty eight people were sent home from their jobs at a Bournemouth company and told they would be redundant by Christmas. The staff worked at Holdenhurst Road for Ethical Forestry, which specialises in sustainable forestry development from an office in Costa Rica. The affected staff worked in a call centre, which was shut down after risk management advice from lawyers."
This was certainly the first sign that there were some huge issues with this SIPP investment company and was a sign of things to come with the Ethical Forestry compensation claims that would come about in 2016.
Claim Ethical Forestry Investment Compensation
If you were one of the thousands of people who invested then you may be able to recover some of your money. If you want to start a claim, or simply want to know what your options are with regards to getting your money and investment back from the Ethical Forestry scheme, contact our team today. Either phone us (0161 968 0768), or complete the form on our website.
Our team work on a no win no fee* agreement, and also offer free phone consultations to all Ethical Forestry investors and victims of mis-selling. If you want to discuss a potential claim for compensation call then get in touch today.
As a postscript to this issue, if you are wondering whether you still own the trees that you invested in, then the answer is yes. The liquidators of Ethical Forestry are currently looking to find a new management team and have already written to the existing investors with four available options. You should have received this information.
Can You Claim for Compensation?
If you are still wondering what you should do about your investment in Ethical Forestry then we would love to hear from you. We understand how appealing the offer of an Ethical Forestry SIPP investment was at the time.
We also understand that your IFA was probably in receipt of a very large sale commission for recommending that you invest in Ethical Forestry as part of your SIPP investment. Evidently, it was probably a mis-sold investment.
At Expert Pension Claims we can help you seek damages and compensation for a claim for Ethical Forestry investment mis-selling. If you want us to act on your behalf, or simply want to know what your options are then please get in touch with us now so we can make a SIPP claim on your behalf.
For more information on mis-sold investments claims, visit our Mis-Sold Investments Claims page where you can start your claim in as little as 30 seconds.