TailorMade Ltd (TailorMade) was a company which advised people about investments and how they should manage their self-invested personal pension (SIPP). The group suggested investment in the financially troubled Harlequins Group. Following a number of poor decisions and the company misleading customers, TailorMade was liquidated due to the inability to repay investors and clients. Our team can help you make a claim for compensation.

In order to get started and to see whether or not you can make a TailorMade SIPP compensation claim after your bad investment, please contact our team today. We are committed to helping UK savers who have been mis-sold SIPP schemes in getting their money back on the investment.
The Background to the Claim
With the company supporting offshore investment schemes and losing significant sums for clients, many people lost a substantial amount by investing in the Harlequins Group and other suggested portfolios through the advice of TailorMade.
TailorMade Ltd was considered to be a trusted investor by many as well as an advice partner to numerous investment companies. One of the major investment opportunities offered by TailorMade was in the Harlequins Group, which was looking to provide offshore investment opportunities in the Caribbean.
With a number of high-profile celebrities, such as Pat Cash, backing the Harlequin Group and trusted financial advisers insisting that customers invest in the organisation, many people lost a significant amount of money when the Harlequins Group went under. Following this TailorMade filed for liquidation. Alarmingly, following an investigation it was revealed that TailorMade invested pensions without the proper controls in place.
Thankfully, however, if you were guided by an advisor to invest money or if you have lost a significant sum, our team of expert team can get you the compensation you deserve. By acting quickly, our team will be able to give you the proper advice and representation to try and claim back as much investment as possible
With years of experience in recovering mis-sold investments, our team can help you try and reclaim some of the money you lost through poor and ill-thought advice.
We work on a no win no fee basis and with years of experience our team can use their knowledge and skill to get you the damages you deserve.
What Was TailorMade and Why is it a Mis-Sold SIPP?
TailorMade was effectively an advice arm and alternate business for those looking to invest their SIPP. Advisors and agents from the company offered advice on investments in overseas opportunities.
One of the major factors in showing that TailorMade was a mis-sold SIPP scheme was the fact that it refused to honour the controls in place to properly protect their customers. The group advised clients to transfer their pensions into SIPPS, which were then invested fully in high-risk schemes including the Harlequin group. Advisers and agents selling clients investments in Caribbean villas run by Harlequin were estimated to receive a commission of around 15%. Trusted advisors therefore received significant commissions at the expense of their customers.
While the investors believed that their money was safe and being invested wisely, in reality, the money was being invested into schemes that were unsafe and a serious high-risk investment. Rather than properly assess the risk to those investing, much of the investor's income (often more than approved by the customer) would be invested.
The Financial Conduct Authority found that TailorMade failed to assess the suitability of investments made through SIPPs for its customers and didn't manage its conflicts of interests. It was also revealed that the organisation failed to oversee their compliance functions properly. According to some experts, TailorMade earned around £3 million through its SIPP programme with many the savings accounts of many customers being drained entirely.
Why Did Investors opt to put Money in the Scheme?
A number of the investment opportunities available through a company such as TailorMade were deemed to be too good to turn down with many customers being advised by "experts" to transfer more money or invest in certain projects. Many of the investment opportunities promised substantial returns, however they were often based on false projections and many of the businesses were not regulated.
People were informed that their SIPP could be used to build a comfortable retirement through shrewd investment in biofuels, land and overseas property with TailorMade advising on the best portfolios and opportunities. However, with significant commissions for all agents and TailorMade not following regular rules, many people were left with little or no money when the company went into administration after it failed to readdress clients.
With so many customers mis-sold investments and the company entering liquidation, for many customers, the prospect of obtaining compensation or making a claim seemed impossible. However, our team will work with you and use their years of experience to try and reclaim some of your investment.
How did the Story About TailorMade Break?
The complex nature of the case involving TailorMade came out around the same time as one of their main high-risk schemes went on the brink of administration. TailorMade frequently encouraged investment in the Harlequins Group, who were heavily featured in publications across the UK due to their financial difficulties. Following this, it did not take long for investors with TailorMade to raise the alarm about their so called "safe investment".
Following the long, drawn-out court case and fines for owners and advisors, the TailorMade case was soon covered by many publications and online sites with the fines of executives at the company receiving a significant amount of coverage.
Invested with Tailormade? How can you claim Compensation?
Tailormade not only encouraged investment into high-risk schemes in a bid for agents to obtain significant commissions, but the group also invested more money without informing their clients. When it was deemed that the company had to readdress certain payments to shareholders, the liability created forced the company to liquidate. However, due to this, the claims of investment due to inaccurate advice were passed to the Financial Services Compensation Scheme.
If you were misled by an agent or if you believe you could be entitled to make a claim, our team will be able to give you the best advice and representation on a no win, no fee basis.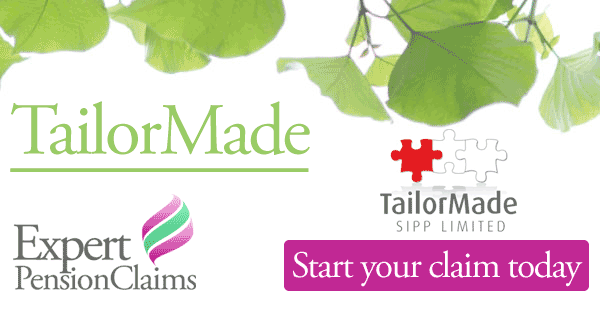 TailorMade SIPP – Can You Claim for Compensation?
If you have any questions about your investments or if you were misled or lost money due to sanctions and rules not being followed, you could be entitled to make a claim to have some of your money reclaimed. To find out how we can help you get the compensation you deserve, or for any advice about reclaiming investments, contact us today using our online contact form.
We gather as much information as possible from you

We then investigate the legal routes and avenues

We keep you informed each step of the way
Get your money back after investing your SIPP with TailorMade
Call us or complete the form to see how our team can help your compensation claim.